In this tutorial, we'll show you how you can easily and quickly manage each of your leads such as their profile, relationship status, notes, sent emails, and RSS feed.
So, firstly, head to Lists and select "Your Leads".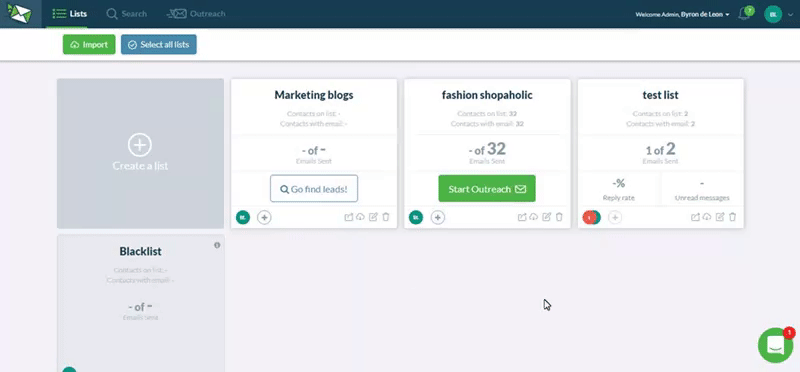 Simply hover over the bottom left bar of your lead card and options such as "Profile", "Relationships", "Notes", "Send Emails", and "RSS" should appear.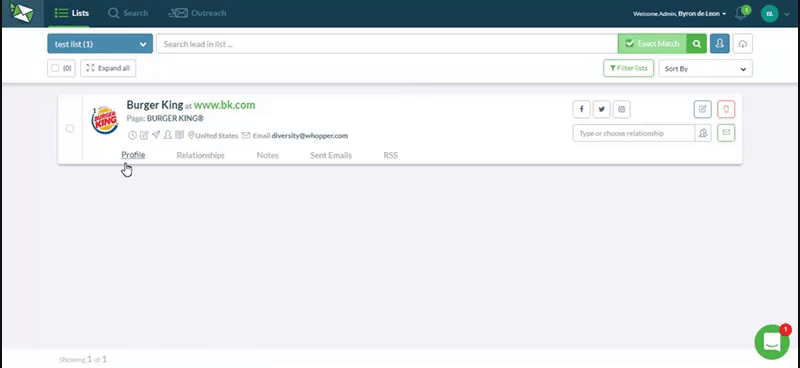 Great! Now let's run through together what you can do in each of the section:
Profile
In Profile, you will see an overview of who the lead is such as their description, social media handles, tags, and web metrics (DA, PR, Shares, etc).

Relationships
In Relationships, you will see the past and most recent interaction you and your leads had such as "Blogger agreed to a giveaway", "Blogger published sponsored post", and so on.

If there is nothing there, it means you have not added a relationship status and you can do so by either:
Entering your own custom relationship status under "Last relationship"
Selecting from our pre-made list by clicking the relationship icon.
When you're done, press "Enter" and it will automatically be added to your list.

Notes
You can use Notes to keep track of your leads or share ideas, thoughts, and conversations with your team members. It will also sync across all your team members so it's easy for everyone to follow up and stay updated.

Sent Emails
This section shows you all the emails sent to your leads including who the sender is and when it was sent. The great thing is that this syncs across all your team members, so everyone will always be in the loop.

RSS
If your lead has an RSS feed, then it will be displayed here along with the published date. This gives you a better sense of what your lead is up to, what they're writing about, and it can help you personalize your outreach better by referencing to their recent posts.

How to Bulk Edit Leads
If you'd like to edit your leads all at once, here's how you can do it:
Step 1: Select the bloggers
You can select bloggers individually by checking the boxes next to their card or select all of them at once by checking the box with "(0)".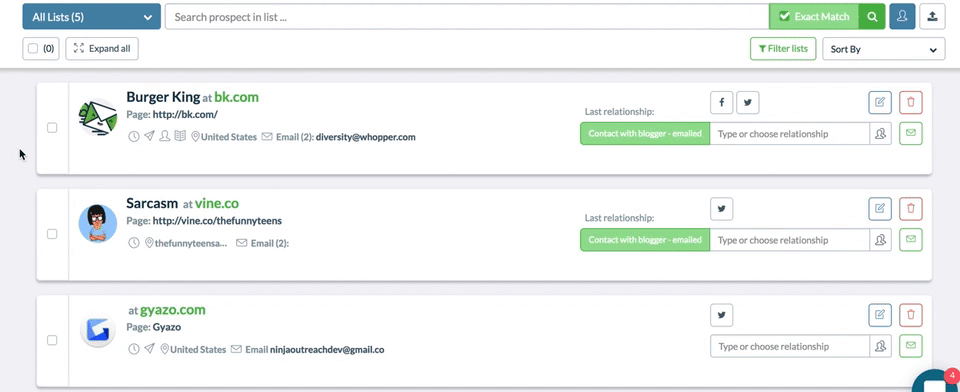 Step 2: Click the pen icon to edit
A Bulk Edit card should pop up and here you can make your edits such as moving them to a different list, adding tags, adding relationship statuses, and adding notes.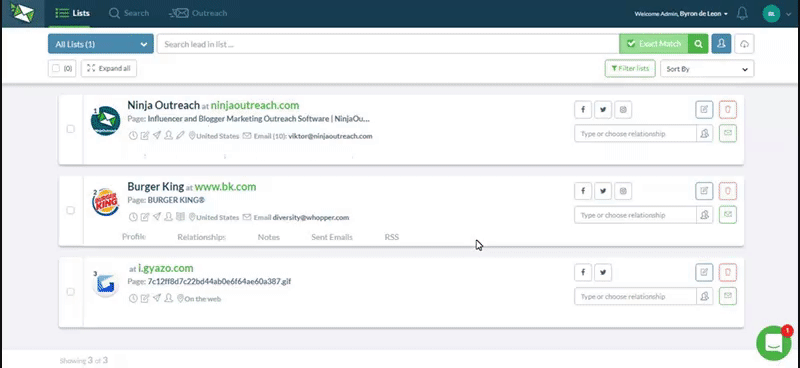 Filtering Leads
You can filter out the leads you want to see by clicking "Filter lists". An expanded menu with all the attributes you can choose to specify will appear such as:
Name
Location
All Contacts
Email and Contact URL
All Featured Pages
Tags
Top Level Domain
Relationships
Follower numbers
Shares per post
SEO metrics (DA, PA, Moz Rank, Alexa, etc)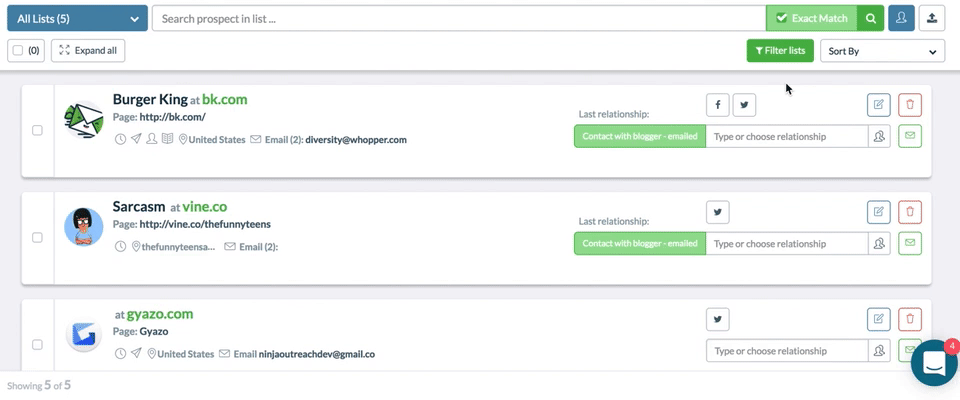 Sweet! You're all set to manage and neatly organize your leads in any way you want.