Ah, having a little trouble with the search? We're very sorry about that but these things do happen. Even Google doesn't always get it right 100% of the time.
But anyway, fear not, we're here to help you fix this.
So, what seems to be the problem?
Often times, the common search issues are:
The search results aren't relevant
There are too many companies in the search
There aren't enough search results
The search wasn't done "the right way"
Here are some best practices you can try out across all our searches:
Search Best Practices
The following is a list of best practices for dominating in the searches, which are explained in more detail below:
If you're not getting the results you want, try being less specific. Use less words in the search and think more generally.
Think like a blogger/influencer – what would someone write in their Twitter bio? What would someone title a post?
Make sure to search according to the search category. For example, search for content on Most Shared Content, search for influencers on Social Influencers, etc.
Try different approaches to the search, for example, "Save Money" or "Finance Blogger" – they will yield completely different results (but potentially all relevant).
Use the filters instead of keywords (i.e filter on guest post instead of typing it into the search).
Check your typo/language.
However, NinjaOutreach has Live Search running in the background now which means you are more than likely to yield results either way. Live Search happens when there are no matches in our database and it will automatically fetch fresh results straight from Google. Yes, even with Exact Match on, you can still get some results!
You'll know it's on Live Search when you see this: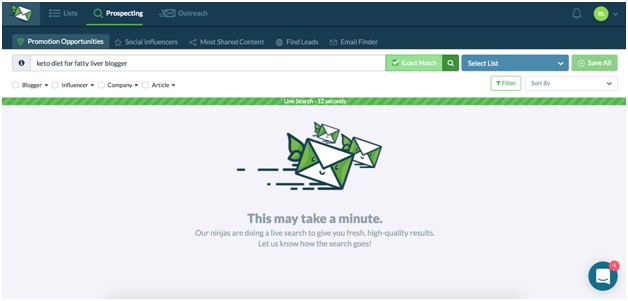 But of course, should there be any problems, here are some ways you can fix them:
Fixing The Search Results – Relevancy and Quantity
Often the problem to fixing the search relevancy is by trying different search terms. It's relatively sensitive.
For example: "lego builders moc in malaysia"
Unfortunately, a search like this, assuming the Exact Match criteria is on, will require all of those keywords to be present, and yield no results:

Another approach might be to do something like, "lego builder malaysia" and to cut out extraneous keywords:
As you can see, this didn't yield any search results either: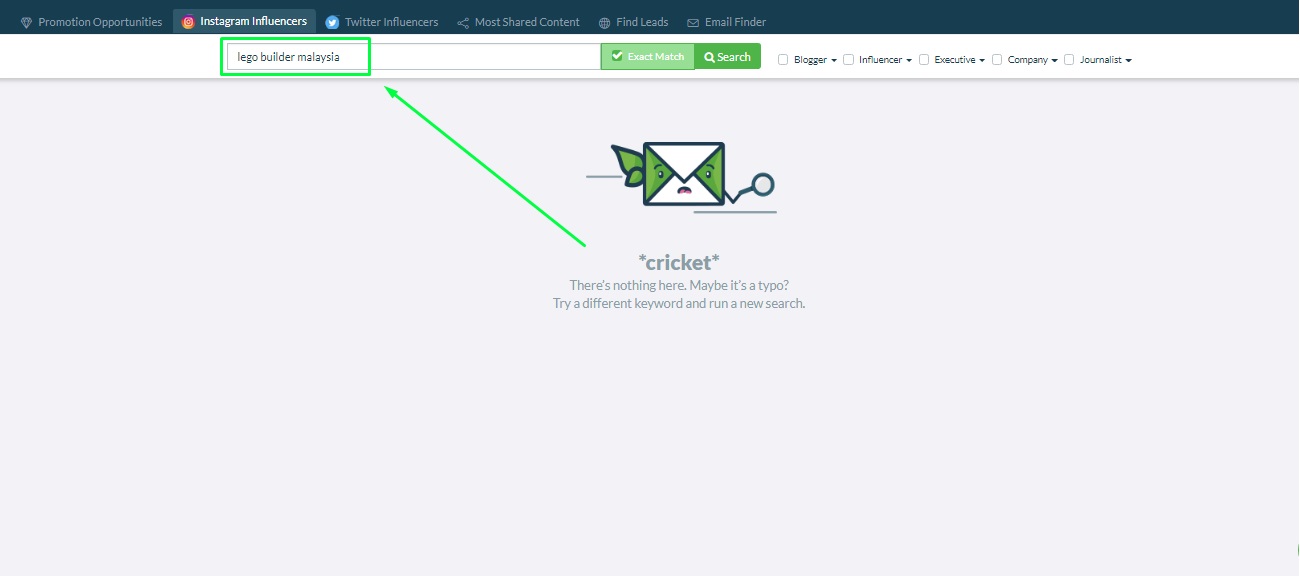 The best solution is to do the following:
Keyword: Lego
Filter by tag: Influencer
And switch off Exact Match too.
As you can see, this is a lot better: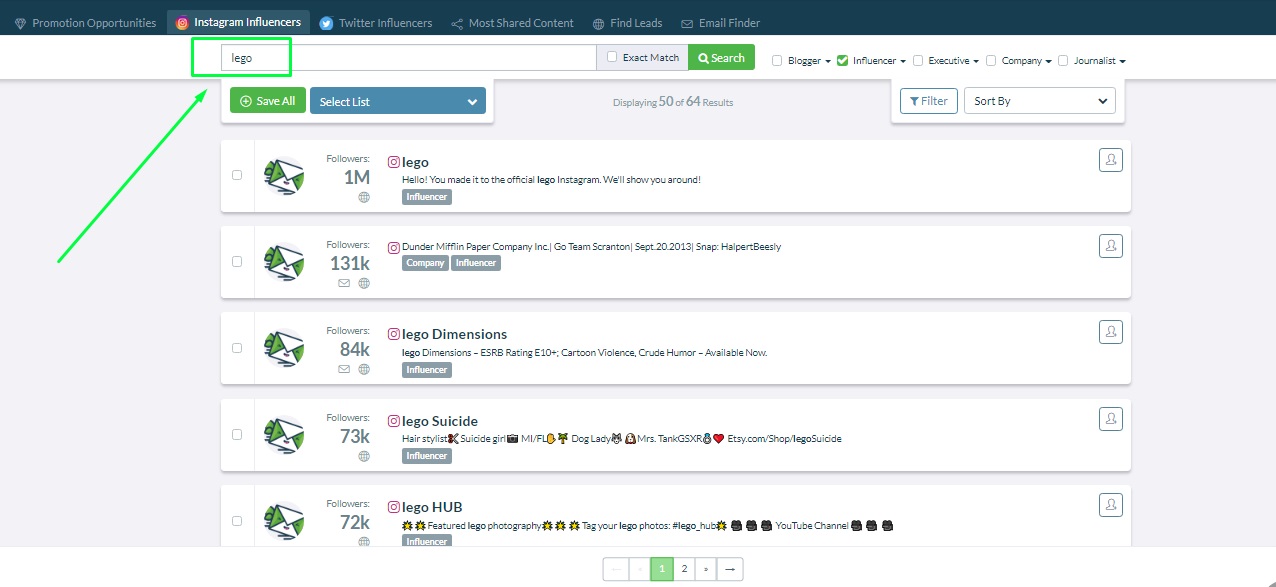 In general, it's better to leverage tags and filters than keywords, because the keyword is a very specific requirement.
Not Relevant Enough…
But let's say you aren't really searching for an influencer/blogger, but are just having problems with the keywords in general. For example, you're looking for
"Kitchen Storage"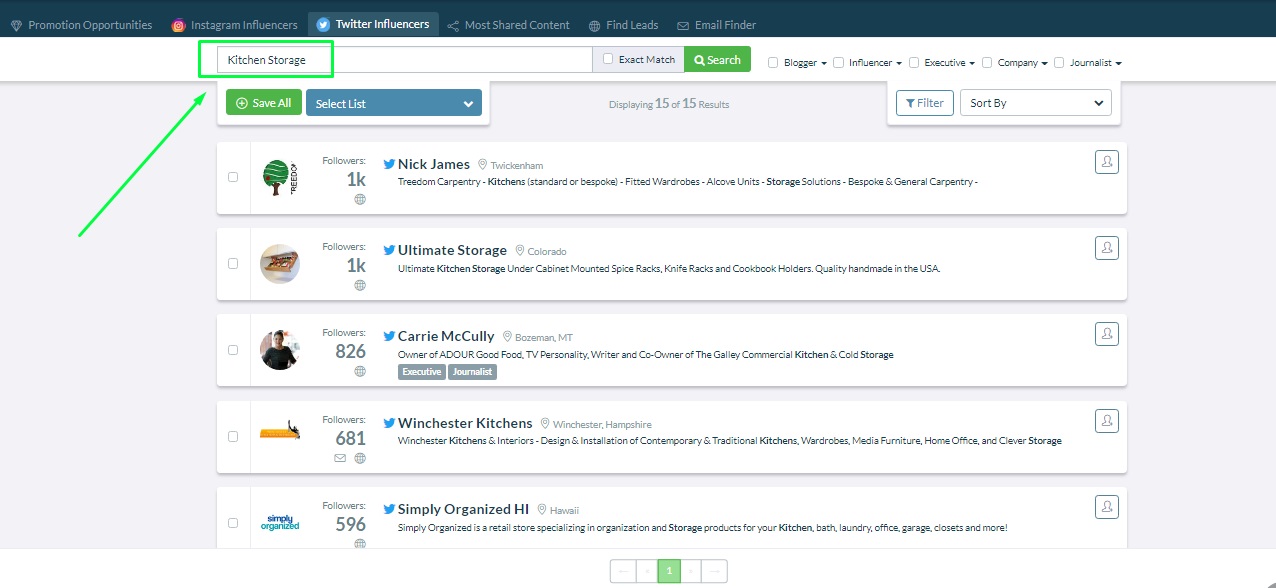 This can work and did yield some results, however, it's important to understand how this works from the blogger perspective.
Bloggers don't often define themselves as Kitchen Storage Bloggers – instead they might be home improvement bloggers.
Because a lot of the descriptions are leveraged from their Twitter bio, it is better to search in a way that the blogger might actually describe themselves.
Basically, try to search for the blogger niche, as opposed to being ultra specific.
For example, Home Improvement: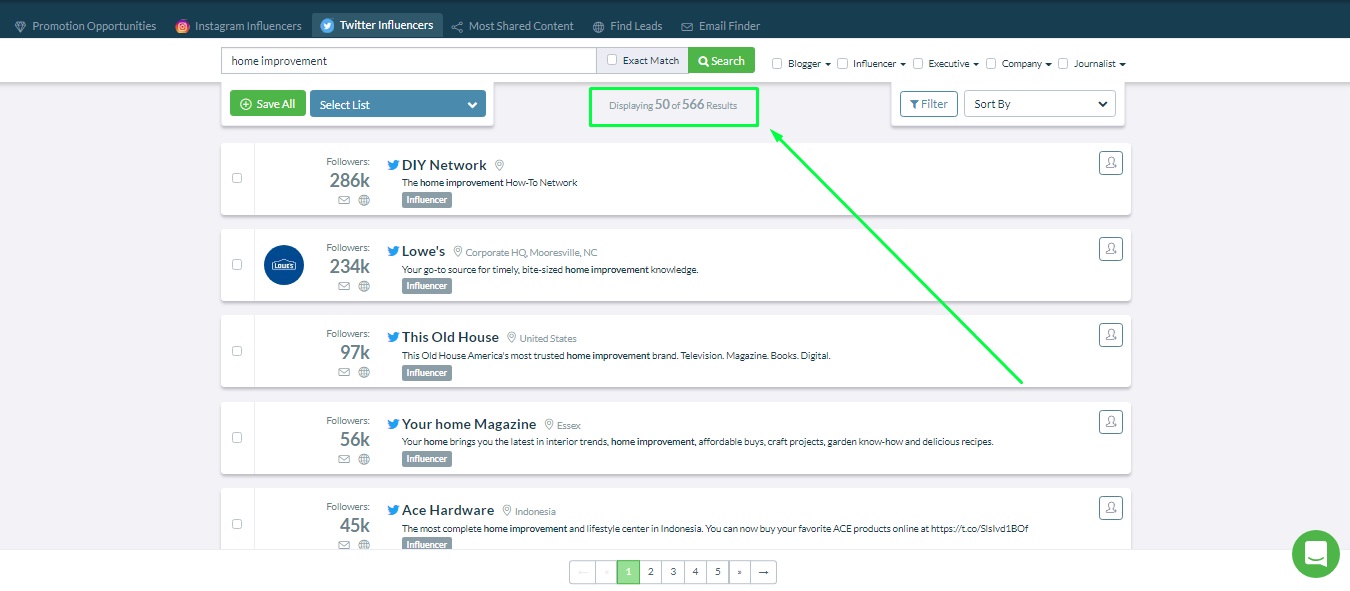 This yielded almost 37x more results!
Of course, there are many different keywords that could qualify for a given niche. For example, Finance, a blogger might describe themselves or their articles with the following terms:
Finance
make money
save money
budget
budgeting
And so on and so forth. In short, it's worth trying out some different keywords because it can dramatically increase the numbers of results.
Too Many Companies…
Now, let's say you have plenty of results for your keyword but you're finding a lot of companies.
In this case, we recommend turning on the Blogger filter tag. It is possible that a company will still show up (many companies do have blogs nowadays), but it will be less. The blogger filter tag looks for results that have blog in the keyword, as well as things like About pages, which tend to be more often bloggers.
Trying Different Segmented Searches
If you're not getting the results you want, you might want to also do a quick check to make sure you're searching under the correct segment.
You want to search for influencers/bloggers under Social Influencer to reap the most results and if you're looking for interview opportunities, you should look for it on Promotion Opportunities, and so on and so forth.
Each segment is designed to display results differently and has different filters to accommodate too.
You can read more about the type of searches you can do on NinjaOutreach here.
Removing Exact Match Criteria
As a last resort, on both searches you can remove the exact match criteria (uncheck the box).
This will allow any result that has at least one of the words to show up, which will make it less relevant, but more quantity.
If you are still having issues with the search after this, reach out to us – we can help give you some keyword ideas and specific tactics!